OBSESSIVE 3 PIECES SET 810-SEG-1 - WHITE - SIZE L/XL
Tax excluded
Entrega: 24h a 72h*
Description
Black lace, beautiful motifs and tempting cut – that's your recipe for a perfect day and a hot night! An incredibly coquettish version of you is coming and you're gonna like it. Put this set on whenever you feel like having plenty of fantastic time together with your beloved!
Look at the details:
Seductive set with garter belt
Bra with adjustable straps and adjustable closure – perfect fitting
Padded cups accentuate breasts
Plenty of eye-catching, lacy adornments
Black thong included – sexy, exposed derriere
Soft, stretchable fabrics (90% polyamide, 10% elastane)
Color: White
Size: S/M
Obsessive means inspiration for women. Elegance,sensuality, embroidery love ... Best fabrics and best embroideries to create unique pieces of lingerie. Years working to join the best quality - prize relation.
World leaders in lingerie! Nobody makes better!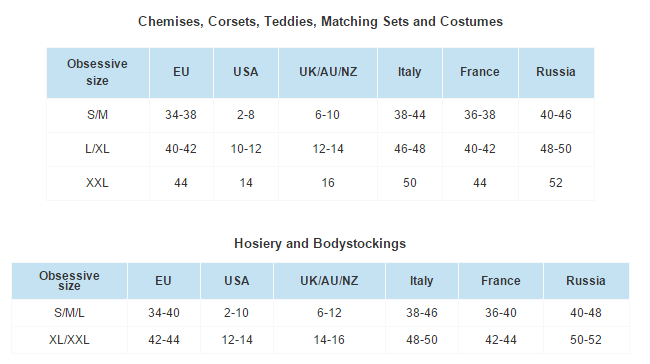 Reviews
No customer reviews for the moment.
Related products
(There are 13 other products in the same category)
Videos OBSESSIVE 3 PIECES SET 810-SEG-1 - WHITE - SIZE L/XL
Was kann der Ouch! "Inflatable Silicone Twist"? EIS weiß Bescheid ...
---
News OBSESSIVE 3 PIECES SET 810-SEG-1 - WHITE - SIZE L/XL
10 naughty sex stories from history
2017-10-03 His soldiers were undisciplined and followed his lead. His mother used the same nursery rhyme as mozart in correspondence with her husband, leopold. From meager beginnings, hammond married into the incredibly powerful and wealthy hampton family in south carolina. Eventually, hammond owned numerous plantations and hundreds of slaves. He has also served as a senator, governor, and member of the house of representatives. From there, the penis made its way into the hands of the priest who performed napoleon's last rites.
north downs pony fetish club boss accused of flogging slaves in front of teenage boy
2017-10-03 The manager of a fetish club faced court today accused of flogging female slaves in front of a child and inviting the youngster to take part. And he claimed that even though they were completely naked, their activities were entirely non-sexual. He is also accused of possession of extreme pornographic images and videos. He also insisted that the activities at the pony club, despite participants being almost completely naked, were non-sexual.
---