OBSESSIVE S500 GARTER STOCKINGS BLACK S/M/L
Tax excluded
Entrega: 24h a 72h*
Description
Extravagant combination of stockings and garter belt!
 Delicate, plan mesh
 Cut-outs reveals the buttocks and crotch
 Hips decorated with floral pattern
 Comfortable, wide rubber band - not sticks to the body
 Flexible, soft material (90% nylon, 10% elastane)
 Category: spicy
 Colours: black, white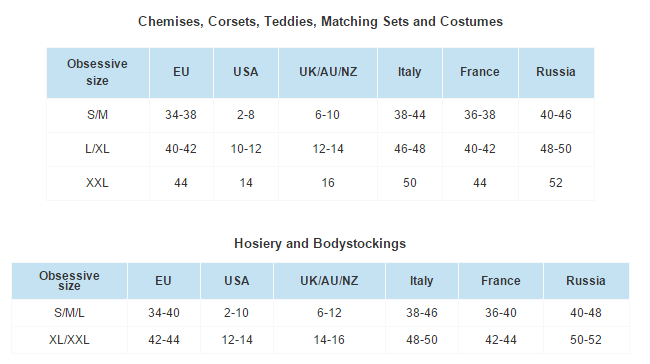 Reviews
No customer reviews for the moment.
Related products
(There are 16 other products in the same category)
News OBSESSIVE S500 GARTER STOCKINGS BLACK S/M/L
What happened to the Baldwin brothers? | what was ... all the rest
2018-03-30 They were alec, william and stephen baldwin. Actually there were four brothers actors, but Daniel, who was second behind alec, did not stand out that much. Oliver Stone had the great idea of ??bringing together three baldwin brothers born on the fourth of July. To make matters worse, the Baldwin family has expanded as the big bang and also includes Kennya Baldwin, Stephen's wife, Elizabeth Baldwin, ex-wife of Daniel, and the sisters of the actors, Beth and Jane. He was the oldest, my favorite and most probably the most professional of the three.
shopping cupido
2018-03-30 Are you looking for something original to give as a valentine? here you have a lot of options to give and surprise your partner or that special person with whom you have felt the arrows of cupid. Two luxurious masks, one black and one silver, ideal for your games of bondage the day of cupid. Having your eyes covered will help you elevate the senses and increase sensory anticipation. A classic that can not be missed on such a special day.
What is the difference between dildo, dildo and vibrator?
2017-12-06 Before using our first sex toy, all of us have asked ourselves what is the difference between a dildo, a dildo and a vibrator. However, we are embarrassed to seek advice and go straight to the counter of the sex shop or elegant erotic shop and let those classics of I want to buy a dildo that does not vibrate or can you show me the vibrator of nacho vidal ?. There is a lot of misinformation, so let's explain what a dildo is, how we can understand what they call "dildos" and, of course, what a vibrator consists of.
---