OBSESSIVE EMPRESIA SET L/XL
Tax excluded
Entrega: 24h a 72h*
Description
Sexy and elegant set – perfect for spicy evening for two! - 3 parts in set – tempting bra, hot garter belt and thong. All elements have tasteful, flower motif and lace trimming - comfortable, soft bra
 Adjustable shoulder straps-perfect fit!
 Elastic under the breasts and three-adjustable hooks ensures comfort and perfect fit!
 Translucent bowl decorated with velour and lace motif
 Wide garter belt with underwires, adjustable straps and corset binding for a perfect fit!
 Thong decorated with a velvet, flower motif and tasteful lace included
 Comfortable, flexible material (90% polyamide, 10% elastane)
 Category: sexy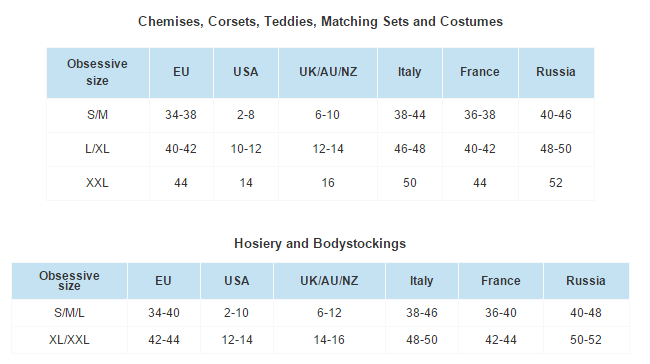 Reviews
No customer reviews for the moment.
Related products
(There are 16 other products in the same category)
News OBSESSIVE EMPRESIA SET L/XL
Should dogs be neutered?
2018-02-10 She looks him over and sees that his testicles are red and irritated. But experts disagree about neutering and the threshold for neutering dogs is high in norway compared to for instance practice in the USA, where nearly all male dogs are castrated. The government agency has proven that the neutering of dogs is allowed when necessary, or if it helps to give the dog a justifiable quality of life, including social contact with other dogs. In the united states millions of dogs become homeless every year.
atria espanol books by hipolito acosta, maría celeste arrarás, and guillermo arriaga from simon & schuster canada
2018-02-10 Hipolito acosta is the most highly decorated officer in the history of the u. Immigration and nationalization service. The are of mexican-american migrant workers, acosta rose through the ranks from border patrol agent to a key position in the department of homeland security. Acosta and his wife live in Texas. It has been translated into more than fifty languages ??and remains one of the longest-running bestsellers of this century. Canessa and parrado guided to rescue party back to their fourteen friends who were still trapped on the mountain two months after the initial search for them had been called off.
an oklahoma program treats juvenile sex offenders as kids, not criminals
2018-02-10 Violent men who take what is not freely given. Under oklahoma law, tyler is a sex offender. Rivera tries many of these cases and, whenever possible, makes treatment here a condition of probation. Based on simple behavioral-therapy principles like positive reinforcement, positive social involvement with peers and clear structure and expectations, the program has had astounding success. Other than that, bonner says, it's not the highly specialized, extremely difficult intervention that is often necessary for adult sex offenders - and that most state systems assume is necessary for kids.
debating sex and gender in eighteenth
2017-12-24
---